Letter #6 from self-quarantine
On evolving towards a new normal, social distancing in Berlin and Kuala Lumpur, and love and storytelling in a pandemic.
If long emails get truncated for you, read this online at bit.ly/emydeewritesletter6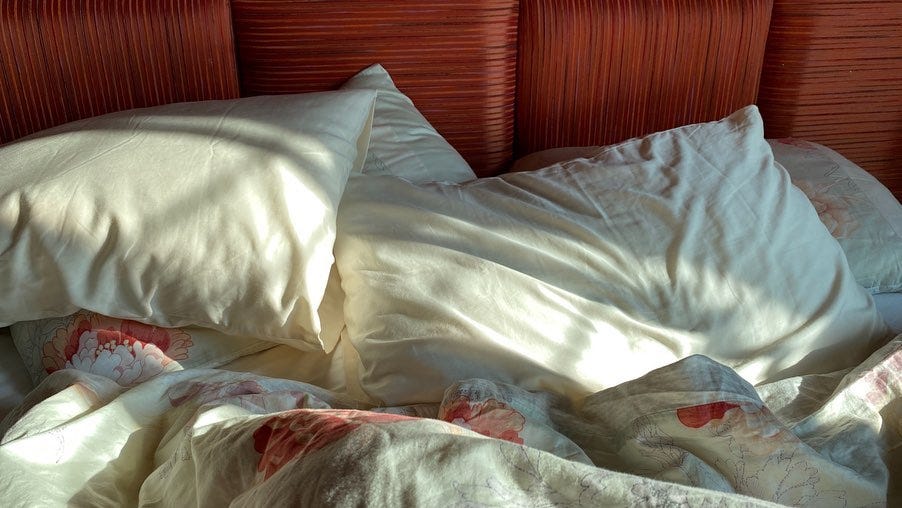 So, how's everyone doing in lockdown/semi-lockdown?
It's been more than two weeks since I ended my fourteen days of self-quarantine in my family's home in Kuala Lumpur (I kept to my room as strictly as possible), having flown back from Germany in mid-March.
I spent most of it in my pyjamas—sometimes actual pyjamas, sometimes house clothes—and let all my volcanic chin pimples hang out, though on Instagram I saw some people dressing up at home and wearing make up to psyche themselves into a better state of mind. I guess it's a fair strategy to delineate time when day bleeds into night and night bleeds into day, but it wasn't my way.
I moved from bed, to desk, to couch, to floor, to bed again—and did not feel too guilty about it, as I could tell myself I was simply being subjected to this. Being initially jetlagged and cooped up in one's room so long after almost never spending time in one's room for months can be discombobulating (my current favourite word!) but I didn't suffer too much from the sedentary isolation. My friends remarked that I was probably finding self-quarantine easier than most, and that's true: I am equal parts wanderer and homebody. When I'm out, I'm out walking, observing, taking photographs, talking to strangers. When I'm in, I'm in reading, writing, pondering, brushing up on a language, watching movies. Either way, I'm occupied, and happy. In fact, both states of being feel absolutely necessary to me. And what is there to complain about? To even be able to coop up in one's own room, to self-quarantine in one's own home, is a complete privilege.
And initially, the idea of being able to fix a period of time with a beginning and an end—the two weeks of self-quarantine—felt incredibly attractive to me. I thought it would be a good time to commit to just one project, to work at it every day and complete it by Day 14. That was not how it happened. I wasn't able to focus on just one thing. There were so many things I wanted to get to that I could hardly complete one before moving on to another, trying to balance them all in incremental measures instead. I still felt the pressure to be productive with work at a time when I perhaps needn't have. After all, friends said: What better time to do that? What better time to have this kind of permission? Well, I squandered that chance, and wasn't all that productive anyway.
I did, however, finally get to the "life admin" tasks I always put off. I filled in retrospective diary entries, sorted out old journals and reporting notebooks, ordered and filed my invoices, expenses and statements, downloaded photos to free up space on my phone, sent friends photos I still owed them, backed up my writing and photo archives, rearranged my bookshelves and updated my catalogue (I keep one on LibraryThing to keep track of what I have), chipped away at the molehills of messes in my room, and KonMari-ed for things I could repurpose or give away.
I also spent too much time trying to book delivery slots for groceries and failed repeatedly. My father seemed always to be wanting more fresh fruits, and I worried about him going out at all. A friend asked if I could shop for his parents, but I was still under self-quarantine. I think this physical limitation—and the fact that I was forced to propound on the seriousness of social distancing to my parents through restrained shouty texts through Whatsapp—made me worry more about the virus. No, Uncle can't come and hang! No, you can't drive the three hours back to your hometown to visit relatives! I didn't want to overstate the dangers, but I thought it was better that they be paranoid than complacent. Sometimes, I would doubt myself, and quickly delete a link that brought home the tragedies of Covid-19 immediately after I sent it to them.
I guess you reach a point where you feel so helpless in the face of all the innocuous scenarios that could get someone infected that you give up—you can only leave your fate up to whatever forces of chance govern our universe. Which reminds me of a hilarious passage by Geoff Dyer on the existential psychic toll wrought by the virus:
as a writer, I am uniquely at risk. Although it's a wretched life in some ways, I've always been heartened by the all-redeeming advantage of spending one's days writing at home: the freedom to pick one's nose whenever the urge takes hold—which is pretty much all the time. That's got to stop. But the writer's finger is vocationally programmed to go up the writer's nose. Even now, as I press these keys, a dangerous counter-gravity is urging hand toward face, nose, nostril. Keep typing, keep pounding the keys (which I'm touching now, seconds after sending a text to my tennis partner, on the very same phone that I checked while out having breakfast, before washing my hands when I got back).
---
Since my self-quarantine ended, I've been moving around the house more freely—taking in some Vitamin D on the porch; trudging on my mother's treadmill timed to an episode of Black Mirror; making vanilla/blueberry/durian crepes and baking for the first time in a long time like everyone else. But I didn't go outside until a week later, after lunch, for groceries. The queue, with people standing spaced apart, wasn't as bad as I'd anticipated—it took me only ten minutes to get into the supermarket. Everyone was wearing a mask, some wore gloves, and an attendant stood at the entrance to sanitise our hands while another handed us a trolley, also sanitised. All that aside though, life hasn't been much different from when I was in quarantine mode.
Malaysia has been under movement restriction orders since March 18, closing its borders and shutting down all essential services, so there hasn't been many reasons to head outside except to buy groceries anyway. Currently, the orders have been extended to April 28, and the authorities are policing fairly strictly, making arrests and imposing fines if you break the rules. But I've also been playing it safe after self-quarantine because I was waiting to find out my test results. I hadn't exhibited any symptoms, but for my parents' peace of mind, they asked that my cousin—who came home recently from his university in Wisconsin, and who was self-quarantining with us—and I get tested when news emerged that the majority of confirmed cases in Malaysia were asymptomatic. Several private hospitals here offer paid testing to anyone, with drive thru and home visit options too, if they don't meet the criteria for free testing at public hospitals.
So we got tested. And yes, the swab stick they poke down your nose is, indeed, very long. But it's very reedy and very bendy, so it's not as bad as people say, though you will wonder why the nurse is telling you the thing isn't even halfway in when you're already leaking tears. It feels a bit like your brain is being tickled, and not in a pleasant way.
They had told us that no immediate news is good news. Three days later, our results came back: Negative.
---
I thought I would live more in the moment on social media during this time when "Stay home!" has become the mantra, just for the fun of it—I've mostly been a #latergram and #throwback sort of sharer. But I haven't. I swipe through Instagram stories with a vague sense that I'm missing out on partaking in the collective. I did not do yoga on social media. I did not make bread (though I love bread and I would like to!) or record my cooking process. I did not sing or dance or perform in any way. I thought I might but didn't end up doing a live read-aloud of short stories I love. (Maybe I'll still get to this.) I did a group Zoom and posted a photo of it only once. I don't thumb my nose at any of this. I just overthink too much to be spontaneously posting.
And to be honest, I haven't felt any real need either—yet, anyway (I know it'll come)—to keep up an active social life. Aside from that Zoom hangout and a few calls with close friends, I've not been sending out feelers to people I haven't spoken to in a while, or people I don't really know but with whom I have a virtual rapport—though I do think it's a great time to bring that into being. This is a time when everyone is comfortable saying, Hey, I'm feeling a little lonely. I have time now. Let's talk, because everyone is feeling shades of the same. But I've just enjoyed having long stretches of uninterrupted time to myself and I've been hoarding the hours unapologetically.
Others seem to feel the same. A friend was telling me how this rare opportunity to just stay home with her partner has worked wonders for her usual anxieties about socialising and self-improvement. She no longer feels the pressure to keep up with friends just because they haven't seen each other in a while; she no longer feels the need to keep up with the latest film or play or lifestyle trend just because other people are talking about it. Another friend said she could just about afford to take some of this time off work, and was dedicating herself to learning new skills and doing things she otherwise never made time for. It was like being in university again, she said.

Admittedly though, as good as I am at being with myself and tending to my own obsessions, my solitude has been tempered by the fact that I'm living with family and can commune at meal times—trying, still, to keep a little distance apart. It's also been tempered, lately, by the faithful presence of another human being far away. We make each other felt through picture and voice "postcards" dispatched from the mornings we wake up to in our respective cities; phone calls tinged with a cheeky tenderness punctuating the day—trying, but not always succeeding, in keeping them short; bedtime readings of The End of the Affair by Graham Greene (almost finished); and Netflix Parties of Ghibli films: Porco Rosso, Kiki's Delivery Service, and Spirited Away so far—all recommended! People talk about love languages—you can probably guess mine—and it feels like we share one. Now, if only the postal service still worked and it weren't so expensive to send mail abroad, I would be handwriting letters too…
But hey, even I, someone who is good at being alone, have my limits. I've experienced occasional mood swings, for reasons that seem petty and illogical. I've been seized by micro moments of anxiety. Perhaps I've been living too much with my own thoughts, turning them over too much in my head, and that's taken a toll.
It comes from not being able to see the big picture, literally and figuratively.
---
I've started pitching coronavirus stories from Malaysia. I've just had one published on The Guardian (Insta outtakes here and here), and I'm working on another.
emydeewrites
Photos by
@hasnoor
.hussain. Sharing more that I couldn't fit into our Guardian story (link in bio):
When war broke out in Syria,
@hasan_alakraa
, 20, fled with his parents and four siblings to Kuala Lumpur in 2012. They were sad to leave behind their house in Aleppo, in a village near the Turkish border. It had a garden with olive trees and fruits and vegetables they had grown on their own. They raised chickens, cows, sheep, and goats; made their own milk, cheese, yogurt, and bread. "Life was very beautiful," he said.
It was the return of a good deed that led them to Kuala Lumpur. For three years, they had shared their home in Aleppo with a Malaysian family with four children. "We met at a mosque and became close friends. When they had financial problems and couldn't pay their rent, we invited them to live with us, as one family." When war came to Syria, the Malaysian family, who had returned to our country, invited Hasan's family to live with them in Gombak. They stayed for two weeks before they found their own place.
In the beginning, Hasan didn't speak English or Malay, and found it difficult to adjust. His parents found odd jobs—in restaurants; as a driver and a babysitter. Then his father's kidneys started giving him trouble, and Hasan and his elder brother worked to support the family. School wasn't an option since refugees, not being legally recognised in Malaysia, have no right to an education. A kind school principal let Hasan sit at the black of classes to learn, but he was bullied, and stayed only two weeks. After leaving Syria, he didn't study for five years.
One day, he was arrested at the restaurant for working without a permit—refugees in Malaysia, too, do not have the right to work—and detained for nine days. He was only 14 years old. There, he met three Rohingya refugees, all younger than him. "Listening to their stories, I told myself I shouldn't be complaining. At least I have a UNHCR refugee card so I will be released, but they came by boat and didn't have any documentation at all. It made me realise how cruel the world is."
Continue at fb.com/emydeewrites
#assignmentouttakes
#everydayrefugees
#refugeelivesmatter
#kualalumpur
#malaysia
It wasn't so much an intentional choice as an unavoidable one to cover Covid-19, since every community is impacted by the virus right now. I write mostly for publications outside Malaysia (stories are not as time-sensitive for a foreign audience as for a local audience, which works better for the kind of journalist I am—I'm slow!) and the challenge is that editors only want stories that are truly unique to Malaysia, so stories that parallel what they're also experiencing in the U.S. or the U.K. attract less interest.
In the course of all this, I've been grappling with my own physical boundaries in the face of this virus. At the start I could only report remotely because I was under self-quarantine and was awaiting my test results. Now, I'm trying to figure out which stories mandate reporting in person and which ones you can just do over the phone. And I'm thinking not just of myself and the several people I live with in the same house, but also the people I report about—especially already vulnerable communities. I would hate to put them at risk for the sake of a byline and some money, if the story weren't an urgent or meaningful one.
I looked at some informal guidelines on reporting from journalist groups, but they lack specificity, and editors from different publications differ in what they ask of their freelancers. It was more helpful to speak to journalist friends in Malaysia and abroad about their own experiences, but their practices also differ depending on where they're based and who they're working for. It all feels quite ad hoc, and people seem to be making it up as they go along. I have to remind myself: This is an entirely novel situation. Some editors will just tell you to be careful and social distance and leave it to you to gauge the risks. Some editors have specific ground scenarios they require you to avoid (anywhere that requires wearing a PPE, for instance) unless absolutely necessary, and are more honest in admitting that they are still figuring out what risks they're comfortable asking freelancers to take. But in general, it seems like as long as reporter and subject agree to meet, and no laws prohibit them from doing so, it's up to them?
For photographers, however, there isn't much of a choice. They have to be on the scene to do their job—and they make the work of writers like me possible, especially when an editor wants to commission a photo-heavy story. For that reason, those of you in Malaysia, do follow Malaysian photographers for a glimpse of what's happening outside our homes. They're your eyes on the ground right now. A special shoutout to two friends: Hasnoor Hussain, a photographer for The Malaysian Insight who worked with me on The Guardian piece, without whom the story would not have happened; and Rahman Roslan, who has been shooting for Getty. (More in this Insta highlight.)
Coronavirus stories aside, I've also been trying to salvage existing assignments, and I'm very glad that the longform ones I was commissioned in London and Berlin have just been put on the backburner—not cancelled!—until some travel is possible again.
Like every other writer, I've also been thinking about what other kinds of stories I can better pitch now. I'm having to pivot my outlook somewhat, since I've always tended to go for intimate "colour" stories that call for immersive on-the-ground reporting, which is now less possible. I'm hoping to work on some stories that are more essayistic, more reliant on research and interviews I can do remotely. Maybe book reviews and culture criticism too. Perhaps I'll even complete some of that short fiction I've got lying around. (If you know me at all, you'll know that's very optimistic. I do need a push!)
The times being as they are, I'm also looking for editing and copywriting gigs for both editorial and commercial clients, based in Malaysia and elsewhere. My strength lies in telling human stories, so if your company is in need of good storytelling to get your message across, I'm happy to discuss ideas. Get in touch.
---
Cafe Cinema, Berlin, after watching 1917.

Now that time feels more elastic, memories seem to blur into one another. But in another way, they've sharpened—divided.
I've been thinking about how naive we were just mere weeks ago. You look back at your social media posts and conversations with friends, the things you talked about and the decisions you were trying to make, and they feel like they're from another time—so clearly in the past, in before time.
There I was, into the second week of March, still trying to make it to London after Berlin to work on planned assignments. There was my friend V., whom I was going to stay with, texting me a picture of the new bed that had arrived for his guest room. Only a day later, I texted him wondering if it was a good idea after all to stay with him, since I should, erring on the safe side, quarantine myself. He seemed unsure too, and spoke of colleagues based in Berlin who were scrambling to get out before a potential lockdown. Another day later, with the numbers climbing in Europe, I decided I would skip London entirely and fly straight home to Kuala Lumpur. That was how fluid it all was. Of course, my far-sighted father had started worrying at least a week before all that. If you wait anymore, you'll be stranded! Why wait till the last minute?
I followed his advice, before borders closed, before cities locked down, before flights stopped running—or became prohibitively expensive. There was also a sense that Southeast Asia was a safer place to be than Europe, which had become the epicentre of the outbreak, with the death toll piling up in Italy. Speaking to family and friends in Malaysia in early March while I was still in Berlin, it seemed like people back home were going out less, but not avoiding it entirely. People were still holding protests (a political coup had just led to a change in government), going social dancing, attending pre-marriage counselling. My father was still going to the office and playing badminton with friends. This, despite the fact the first cluster of infections from the tabligh at a Kuala Lumpur mosque, held over four days in late February, had already emerged. It was only on March 13 that the government banned mass gatherings, and on March 16, announced the closure of all mosques.
Then, just two days after I arrived home in mid-March, the Malaysian government imposed strict movement restrictions all over the country, after reports of the country's first deaths. Put in effect so suddenly, there wasn't a lot of clarity, and businesses and the public had many questions about how far the restrictions extended. But at least, there was now a measure by which we knew how to act. We were no longer each left to our own differing judgements and our own thresholds for risk.
Because we can be so myopic, can't we? It doesn't matter what we know to be true in other parts of the world, or even right where we are. You read the news and inform yourself, but when you still see people in your vicinity crowding cafes over weekend brunches, when you still see people stumbling out of clubs at night linking arms and singing merry songs, you're inclined to tell yourself that everything must be okay, you're being paranoid, calm down, definitely don't refrain from hugging the friend you just met (and, if they're Chinese, don't overcompensate and try to make up for the anecdotes of racism you've heard about on social media). That's how Berlin was before I left in mid-March, and I only noticed the crowds dwindle noticeably in my last two or three days there, as the number of infections climbed above 5,000.
But because of an early solemn warning from a fellow Airbnb dweller to "be careful out there", and D.'s inclination to be cautious, we were already—at least two weeks before I left Berlin—minimising our reliance on public transport and going only where we could walk. We eschewed busy cafes for quiet ones, where we could stay apart from others. One day, we got into a bit of a tiff when I decided it was okay to sit in a cafe that had emptied out (everyone was sitting outside), and D. decided it wasn't. Eventually, we just shuttled between home and workspace and pharmacy and grocery store. It was a slow, clumsy dance, figuring how much to social distance, how much to refrain from public life, when there was no top-down directive from the government, which only came after I'd left on March 22, when Germany announced nationwide social distancing measures, banning public gatherings of more than two people.
For that reason, our trip to Florence now has something of the magical about it. While we were there in early February, we didn't give much thought at all to the virus. I don't think we ever really talked about it; it was hardly a concern. Then, a week after we returned to Berlin, news from the north of Italy started trickling out. Its first coronavirus death was reported on February 21 and, two days later, the government locked down 11 towns and cancelled the Venice Carnevale. Then it locked down the whole country. You're familiar with the tragedies that happened next.
It makes me think about how narrowly D. and I had averted the crisis. We'd almost chosen Venice over Florence for our first trip together.
In early February, overlooking Ponte Vecchio in Florence.
---
Meanwhile, until we can travel again—but in more measured, thoughtful ways—here's pop philosopher Alain de Botton on confinement:
Another thing we can do in our own rooms is to return to travels we have already taken. This is not a fashionable idea. Most of the time, we are given powerful encouragement to engineer new kinds of travel experiences. The idea of making a big deal of revisiting a journey in memory sounds a little strange – or simply sad. This is an enormous pity. We are hugely careless curators of our own pasts. We push the important scenes that have happened to us at the back of the cupboard of our minds and don't particularly expect to see them ever again.

But what if we were to alter the hierarchy of prestige a little and argue that regular immersion in our travel memories could be a critical part of what can sustain and console us – and not least, is perhaps the cheapest and most flexible form of entertainment. We should think it almost as prestigious to sit at home and reflect on a trip we once took to an island with our imaginations as to trek to the island with our cumbersome bodies.

In our neglect of our memories, we are spoilt children, who squeeze only a portion of the pleasure from experiences and then toss them aside to seek new thrills. Part of why we feel the need for so many new experiences may simply be that we are so bad at absorbing the ones we have had.
Revisiting journeys in my head is something that I've always done and always created space and time to do in order to remember and imagine. But in these times, these words ring even more true, and perfectly express how I've always felt. I'm the sort of person who can't help but look back, who tries constantly to reconcile the past with the present. In fact, I've sometimes found it to be a bit of a character flaw—though it also feels like the necessary condition of someone who writes.
Again, this was a long one. If you read till the end and enjoyed it, or have thoughts you'd like to share, I'd be happy to hear from you.
Till the next,
E.
Recommended big-picture/reflective/quirky Covid-19 reads
Angela Merkel's speech on March 18 — I found it both inspiring and reassuring. Reminds me of a line a writer once used to describe her: that she has "a measuredness about her that can mask a profound optimism".
This is the bleak heart of the world's deadliest coronavirus outbreak — an emotionally affecting photo essay from Bergamo, Italy. A friend I sent this to said it made her cry.
Cherishing human connections in the time of coronavirus — a two-part collection of mini photo essays from photographers and artists under lockdown.
Real estate for the apocalypse: my journey into a survival bunker — exactly what it sounds like, by Mark O'Connell.
The Last Days of the Art World… and Perhaps the First Days of a New One — a meditation on the future of art by Jerry Saltz, critic for New York magazine.
Since I became symptomatic — a personal essay by Leslie Jamieson about being infected by coronavirus after becoming a newly single parent.
I'm an E.R. Doctor in New York. None of Us Will Ever Be the Same — a detailed week-by-week diary by Helen Ouyang, with glimpses, too, of what happened in Italy.
The Slur I Never Expected to Hear in 2020 — a personal essay on being "Chinese" in this pandemic by Cathy Park Hong.
Hand dryers v paper towels: the surprisingly dirty fight for the right to dry your hands — this story by Samanth Subramanian was actually written before the coronavirus struck, but feels like an apt read right now.
Yan Lianke: What Happens After Coronavirus? — a speech on the importance of community memory. (Introduction to the Chinese novelist here.)
In non-coronavirus recommendations, just take your pick from this list of better-than-fiction longreads that were adapted into movies.
---
#2020readingchallenge
emydeewrites
These days, because I have so many seemingly disparate things on my mind at the same time, I often find myself reading two or three books simultaneously, impatient to excavate my thoughts—though only one of the books would be a novel at any one time (I'm on my first Cusk now, who appears to be of-the-moment in bookstores here), and the rest usually essay or short fiction collections.
On track to finish my fourth book so far this year!
#rachelcusk
#2020readingchallenge
#berlindays
#bookstagram
#latergram
Collected on Facebook. I also started a Good Lines album in which I post passages that I find memorable. Like everyone else, I've been reading quite a bit more.
---
Keeping up with Covid-19 updates in Malaysia
Between the Lines — a tongue-in-cheek news digest founded by Marc Lourdes.
Annabelle Lee's Instagram Stories — daily summaries from a Malaysiakini journo that also manages to succinctly tell you the why, not just the what.
The All Day Show with No Budget with Dr. Jason Leong — an actual doctor-turned-comedian's take on the news, providing not just laughs but also interesting insights, like this interview with a doctor working on the frontlines.
How you can support this newsletter
If you've enjoyed my letters, please tell someone about it. A personal thumbs-up from you would make my day.
You can also reply to this email with some nice words, and if it's okay with you, I'll share them in my future dispatches and/or on social media.
You can stay on a free subscription and still read most of my letters. But you can also make a paid subscription for USD$3.50 monthly (you can cancel at any time), or a discounted USD$35 annually, as a show of support.
Alternatively, you can make a one-off contribution—however much you'd like, in whatever currency you choose. Either way, I'm thankful you're reading!
I write news, culture, and travel features/longform, and I'm always looking for story ideas. I don't have a specific beat, so tell me something interesting that's happening in your life or field of work. I'm also available for editing and copywriting/content writing work.
All words and photos published in this letter are mine, unless otherwise noted or as common sense dictates. Please don't reproduce without permission.